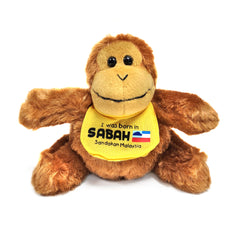 Hello from Sabah Orang Utan Plush Toy
This cute orang utan was born in Sabah, the Land Below the Wind! People also call it the Jungle Man or Man of the Forest! It always says "Hi" to you with a sweet smiling face. And it also comes with a nice bib printed with beautiful Sabah's flag and text that says "I was born in Sabah, Sandakan, Malaysia".
Do visit our endangered orang utans at the Sepilok Orang Utan Rehabilitation Centre in Sandakan; one of the largest orang utan rehabilitation centres in the world. Whether you've seen a real orang utan or not, this plushie would make a lovely little gift for kids, loved ones and friends. It can serve as a decoration too.
This plush toy is made from 100% hi-pile material and is about 5 inches in height in sitting position.