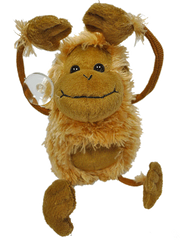 Howdy Orang Utan Plush Toy
HOWDY! This fellow is a little wild man from the rainforests of Sabah on Borneo Island. Its arms and legs can be twisted to any position you wish. Bring it home and start twisting it! It also has a little suction cup attached to its head and you can stick it on any smooth surface!
This cute plush toy is made from 100% hi-pile material and is about 6 inches in height.