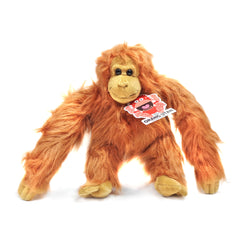 Orang Utan Plush Toy (12 inches)
This endangered orang utan plush toy's fur looks and feels like the real red apes from the Bornean rainforests! If you've had the chance to see these magnificent creatures during your trip to Sabah or even if you have yet to visit our beautiful state, this plushie will make a great souvenir for family and friends. Likewise, you can treat this as decor for any place you wish.
This cute little toy is made from 100% new hi-pile material and is about 12 inches in height from the top of its head down to its feet when stretched to stand.