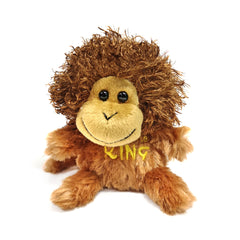 Orang Utan with Afro Plush Toy
The orang utans that make Sabah their home are known for their beautiful and distinctive red fur which gives them the moniker "The Red Apes of Borneo". While their fur in real life isn't exactly luscious enough for them to wear hairdos, you can own this cute little plush toy that is proudly rocking an afro. True to the orang utan's status of being the most famous and recognizable native mascot of Borneo, this fellow here has the text "I am the KING" embroidered across his chest. How about taking him home as a hippy souvenir from Sabah?
This plush toy is made from 100% hi-pile material and is about 6 inches in height in height.