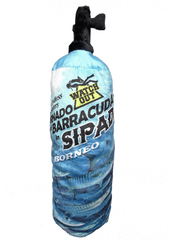 Tornado of Barracuda Oxygen Tank Bolster Plush Toy
previously RM0.00 MYR
This product is temporarily unavailable
Barracuda Point, located within Sipadan's waters off the east coast of Sabah on Borneo Island, is often touted as one of the best diving destinations in the world. While the site is teeming with vibrant marine life that makes for an unforgettable sensory experience, there's no doubt the main highlight of any scuba diver's trip there is the spellbinding barracuda tornado, a cyclone-like formation of massive shoals of barracudas. If you're lucky enough to find yourself within the eye of the fish storm or may not be one for diving to begin with, we have an oxygen tank plushie in the shape of a bolster for you should you wish to have a Sabahan souvenir that features the experience.
The bolster is printed with a photo of a school of barracudas, the map of Sabah, the dive flag and the text "Divers' Endless Encounters into the Tornado of Barracudas in Sipadan, Borneo". Get one for yourself or get a couple more for family and friends so you can line them up side-by-side to see the entire photo at a glance!
This plush toy is made from 100% hi-pile material. The tank body is about 13 inches in length and 4 inches in diameter.