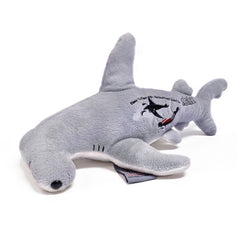 Hammerhead Shark Plush Toy
A common visitor to Sipadan, Mabul, Layang-Layang, and other famous dive sites in Sabah, the hammerhead shark is easily distinguishable by its uniquely shaped head. Whether you're lucky enough to encounter them on your dives or are not one to dip your toes into the sea, this plushie makes for a memorable little gift from Sabah with embroidery on the body "Face to Face with Hammerhead Shark in SABAH".
This plush toy is made from 100% hi-pile material and is about 13 inches in length.