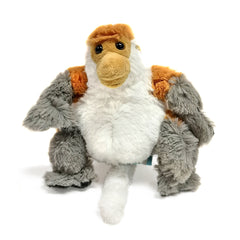 Proboscis Monkey Plush Toy (5 inches)
A classic proboscis monkey plush toy in sitting position with the whole body similarly modeled after the real male proboscis monkeys that are native to the rainforests of Sabah on Borneo Island. He has the characteristic orange fur, long nose, big belly, a white fur underwear no less, and his tail is as long as his body.
Take home a unique and quality piece of gift from Sabah for family and friends.
This plush toy is made from 100% hi-pile material and is about 5 inches in height.