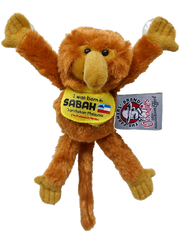 Proboscis Monkey with Bib and Suction Cups Plush Toy
If you fancy a plush toy or squishy decor that can stick to smooth surfaces, whether in your home, car or any other flat sheeny places you can think of, this proboscis monkey with a yellow bib and four suction cups is perfect for you. The bib is printed with the Sabah flag and "I was born in Sabah, Sandakan, Malaysia" text. Grab yourself a cute souvenir from Borneo!
This plush toy is made from 100% hi-pile material and is about 9 inches in height from head to toe.